Unmatched Product Precision and Quality
Revised, Tested, and True

We manufacture parts for our tufting machine as well as replacement parts for the most common tufting machine brands in our industry and sell them at a significant savings to our customers. We have redesigned many of those parts multiple times to ensure that they are even better than the original OEM version. Give us a shot at your next project and let us prove our value to you.
Our Products Include:
Gauge Part Holders

Needle bars

Hook bars

Knife Blocks

Yarn Feed Parts

Top End Parts

Bottom End Parts

Machine Shafts

Mechanical Shifters and replacement parts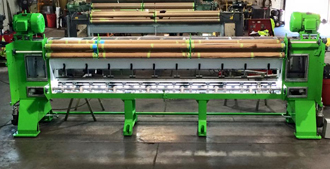 Reliable Tufting Machine Services
Boost the Growth of Your Textile Business
Whether you need tufting equipment installation or service work, you can turn to Hicks Tufting Machine Service, Inc. in Dalton, GA. We offer a range of proven and reliable tufting machine services that will ensure complete customer satisfaction. Along with our helpful services, we also manufacture world-class tufting machines that will boost the production and improve the efficiency of your textile business.
Our Services Include:
Tufting Equipment Removal

Tufting Machine and Equipment Commissioning

Tufting Machine and Equipment Installation

Tufting Machine and Equipment Repair

Tufting Machine Manufacturing

Tufting Machine Replacement

We also offer new Creels and modify existing Creels
Contact Us for Tufting Machine Inquiries
We want to help your textile manufacturing business achieve greater heights by providing tufting machinery and equipment suitable to the specific requirements of your business. Make us your partner in reaching your company's goals. Contact us today at (706) 259-9595 for your
tufting machine inquiries
or to schedule an appointment.